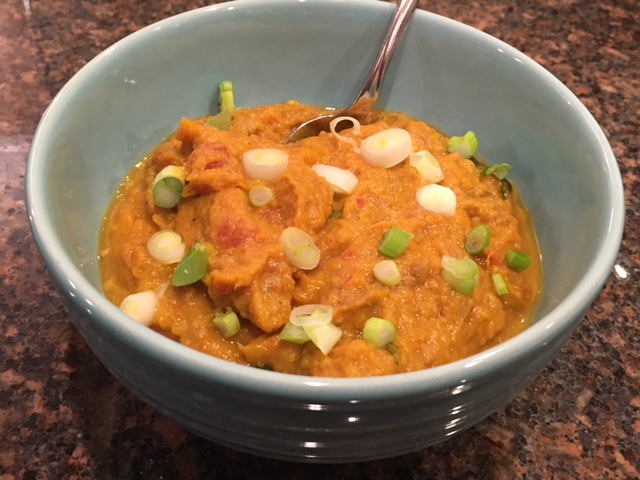 This crock pot recipe is a combination of a dish from Zambia called "Ifisashi", which is usually served over rice,  and Laura Frankel's recipe "Senegalese Peanut Soup" from her book, Jewish Slow Cooker Recipes.  I used all the ingredients from Ifisashi – peanuts, tomatoes, onions, and greens and added ground turkey with squash, sweet potato, curry and coconut milk.  The starchy vegetables take the place of the rice and I added turkey to make this a one pot meal.  Substituting vegetable stock for the chicken stock and omitting the turkey makes an equally delicious vegetarian entrée.
Ingredients:
1 cup crunchy peanut butter
1 can (15 ounce) diced tomatoes with their juice
2 large sweet onions, chopped
1,  5 ounce clam shell container of baby spinach
1 large sweet potato, peeled and cubed
1 good sized butternut squash, peeled and cubed
4 cups chicken stock or vegetable stock
1 pound ground dark meat turkey (optional)
2 tablespoons curry powder
3/4 cup organic coconut milk
about 8 scallions, all of white part and about an inch of green, thinly sliced
extra virgin olive oil
sea salt and freshly ground pepper to taste
Instructions:
Add a few tablespoons of olive oil to a large skillet and saute as much of the chopped onion and squash & sweet potato cubes as will fit with ample room for browning.  Sprinkle the veggies with sea salt and sauté for about 8 minutes,  turning the cubes as the edges begin to turn golden.  As each batch is done transfer the sautéed veggies to your crock pot insert and add more oil to the pan as necessary.  It will probably take 2 -3 batches depending on the size of your skillet.
If you are using turkey, use the same skillet you used to brown the veggies to brown the ground turkey until no longer pink (you do not need to add any additional oil for dark meat turkey).  Drain off the fat in a fine strainer and add browned turkey to the crock pot.
Then add chicken or veggie stock, diced tomatoes with their juice, crunchy peanut butter and curry powder.  Mix thoroughly and cook on high for 4 hours or low for 6 hours.
About 10 minutes before serving, add coconut milk and stir.  Then stir in the spinach and let cook just a few more minutes until spinach is wilted and coconut milk is heated through.
Serve stew topped with fresh scallions and add more salt and pepper to taste.