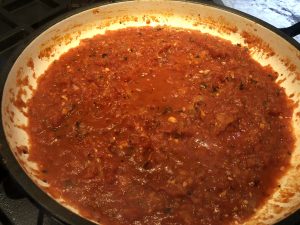 Shakshuka is a delicious tomato based sauce with roots in North Africa.  It is very popular in Israel as a breakfast dish with poached eggs ensconced in the tomato-ey goodness!  I haven't been to Israel lately but I ate some delicious green Shakshuka in Boulder, CO. last weekend! (When in Boulder, I highly recommend The Kitchen, if you find yourself hungry on Pearl St.).
This Shakshuka Recipe is a quick version that did double duty for an easy fish dinner and breakfast the next day – what could be better for an Autumn stay-at-home weekend?
If you have a garden in the Northeast and picked a lot of tomatoes to save them from the first frost, this is great with fresh tomatoes…I used canned fire roasted diced tomatoes.
Cook's Notes:
Shakshuka is very versatile – spice it up or down as you wish.  After traveling, I always crave blander comfort food and this really fit the bill.
Shakshuka is best made in a heavy pan – I used an enamel coated cast iron braising pan but you can use traditional cast iron or any skillet that can go into the oven and on the burner.
I wilted spinach into the shakshuka making it an easy one pot meal!  Spinach is a superfood that I happen to love.  Pre-washed baby spinach is also about as easy as it gets in the no-prep veggie department and wilting it  into almost anything improves the nutrient content of your meal…and it makes you strong like Popeye : )
The basic seasonings are garlic, onion, cumin and peppers.  After cooking, add tons of chopped fresh parsley or fresh cilantro.
Store bought harissa, a red pepper based condiment, is a quick way to get great flavor (thank you Yotam Ottolenghi!).  I love Mina harissa which comes in a variety of spice levels from mild to spicy, red to green. (https://www.casablancafoods.com/collections/harissa)
If using shakshuka for your fish, remove about 2 – 3 cups of sauce and reserve in fridge for eggs the next morning.  This recipe cooked a pound of cod and 4 eggs the next morning.
After washing and drying the cod fillets, sprinkle the cod with salt, fresh pepper and smoked paprika(if you have it else hot or sweet paprika).  The sauce has a lot of flavor so you don't need to do much to the fish.  Any white fish would be delicious – the fish poaches in the shakshuka.  Never undercook cod!!  I cooked it for 12 – 14 minutes per side (flipped over at half way point) at 400°F for a total of 25 – 30 minutes.
When making eggs the morning after, spread the refrigerated sauce out in a medium skillet and heat to simmer.  Then carve a few "holes" in the sauce and nestle a freshly cracked egg into each spot.  Cook eggs by simmering gently for 8 – 10 minutes until whites are set and yolks still look loose and runny…option to cook longer if you wish.  Let the skillet stand for a few minutes after cooking to let the eggs settle before serving.
Shakshuka is a handy make-ahead option for brunch…make the sauce the night before and refrigerate.   The full recipe is enough to cook 8 – 12 eggs.    In the morning, just bring the sauce to simmer, tuck eggs in and go!
Ingredients:
2 tsp. tomato paste (use this whether you're using fresh or canned tomatoes)
2 cans (14 oz.) of fire roasted diced tomatoes (or use about 5 cups chopped fresh)
4 cloves garlic, finely chopped
2 tbsp. harissa
1 tsp. ground cumin
1/2 tsp. dried oregano
1 large onion, chopped
extra virgin olive oil
fresh sea salt and pepper to taste
about 1/4 cup chopped fresh parsley or fresh cilantro to add after cooking
Directions:
Heat olive oil in skillet over medium-low heat and add garlic for about a minute – just until you get a whiff of the garlic.  Add onion, sprinkle with sea salt and saute for another 3-5 minutes until onion softens.  Add harissa, tomatoes and tomato paste along with cumin and oregano and additional sea salt if you're using fresh tomatoes.  Simmer sauce gently for about 10 minutes until liquid is reduced and you have a thicker sauce.
Wilt 5 ounces of pre-washed baby spinach into the Shakshuka stirring until spinach is wilted down.  At this point, taste for seasoning and adjust as necessary.  If you're using canned tomatoes you don't need to add much salt.  For fresh tomatoes you will probably need to add 1/2 – 3/4 tsp. of salt.  Remove from heat.
To cook once and eat twice, remove about 2 – 3 cups of sauce before nestling your fish in and baking.  See Cook's Notes, above, for cooking instructions for cod.