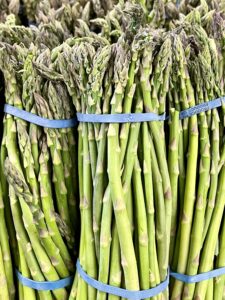 Asparagus recipe to the rescue! Consuming asparagus within two days of purchase maximizes nutrient intake so try this asparagus recipe and streamline your shopping day meal prep!
Locally grown New Jersey asparagus will be arriving next month but  grocery stores are already offering asparagus at in season prices. Hailing from slightly further south, these beautiful spears were grown in Mexico, by Hippie Organics.  Buying organic asparagus is not necessary though because asparagus is a clean green! Making it onto the Environmental Working Group's "Clean 15" produce list consistently each year. https://www.ewg.org/foodnews/clean-fifteen.php
Preparing dinner on shopping day needs to be painless (shopping is painful enough!).  Luckily,  asparagus is Mother Nature's  "fast food."  Bending the spears causes them to snap at the natural divide between tender and woody parts of the stalk.  No knives or cutting boards required!  Rinsing asparagus is all you need to do prior to cooking it (rinsing it in a salad spinner is my preferred method as you can see from the photo of my "pandemic sink," can you relate?!)
Rinse…Cook
Roasting spears of average thickness takes about 5 – 10 minutes in a pre-heated, 375 ° F. oven.  Sprinkling dry stalks with a little bit of extra virgin olive oil gives them a better taste and golden color but hold off on the salt.  Salting prior to roasting draws the moisture out of vegetables, decreasing crispness.  Topping freshly roasted asparagus with the larger "flaky salt" completes this simple asparagus recipe.
Eat!
Combining roasted asparagus with a pre-cooked grain (top with chopped walnuts for a satisfying vegan main course), coupling it with eggs (another easy shopping day whole food) or serving alongside rotisserie chicken are all fast dinner options.
When you have a little more time, check out one of my favorite asparagus recipes, asparagus pesto here: https://madnutrition.com/spring-alignment/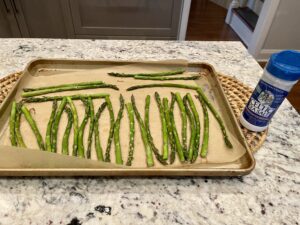 asparagus with flaky salt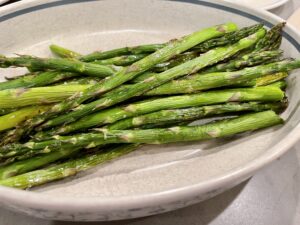 Cooked asparagus