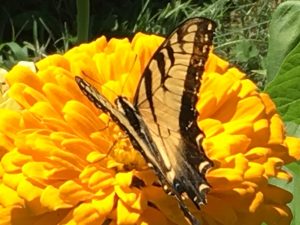 Fall energy is that feeling of being ready to tackle anything…you've had summer adventures, R & R, and a loosening up of the structure for a while but now…it's GO TIME!  Whether or not you have kids that have gone back to school, things retract a bit in September – you can't wear flip-flops everywhere anymore and socks are right around the corner!
Our lives pick up speed in the fall which is what we planned for and thought about while we were dangling our feet in the water.  I took some time this summer to recharge my batteries, including a little break from blogging…now there is much to catch up on!
One of my summer highlights was attending an amazing conference on Alzheimer's and Dementia at the Omega Institute in tranquil Rhinebeck, N.Y.  I'm excited to share more of a focus on maintaining and enhancing brain health through nutrition and lifestyle in the coming months.  That said,  when it comes to being healthy we don't need to be so compartmentalized in our thinking.  When we mentally store each of our health concerns in a separate "box" it feels so heavy!  Generally, there is a simple philosophy we can apply to all areas of our lives.   The same is true for our diets.  We hear a lot about what to eat (or not eat) in order to decrease our odds of getting X where X = our most feared disease.
But there is only one way to eat healthy.  Read that again, please.  There is only ONE healthy diet!
A healthy diet doesn't refer to specific foods or a specific food philosophy (paleo, vegan etc.) but rather eating healthy means eating the high quality, whole and unprocessed foods that work best for your body.  And adapting your diet based on the feedback your body provides, by far the most valuable information you receive.
September Reminder: One way to eat healthy.  Check.
Ever heard of First World Problems?
Introducing, "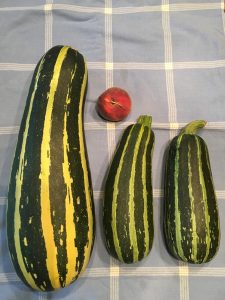 Gardener's Problems"…these occur when you're away and no one is looking after your garden.  While I was getting a taste of summer freedom my zucchini were MAD growing…so, what to do when life gives you giant zucchini?   Make soup!
For a little perspective, pictured with these "too-long-on-the-vine" squash is a peach!
I used 2 of these beauties to make cold zucchini soup:
Check out my dairy recipe here,
and the non-dairy version, here.
Both versions of this recipe are souper delicious, pun intended!
Another golden nugget from the conference was a reminder of just how vital exercise really is.  You don't have to go to the gym but you do have to SWEAT!  Our inside joke during the conference was calling exercise "Stem Cell Therapy".  This nickname is so apt I've adopted it for Mad Nutrition.  Along with all the other miraculous things exercise does for your body, it has been proven to increase BDNF levels in the brain.  BDNF (Brain Derived Neurotrophic Factor) is an important protein linked to brain health and disease prevention.  Among other things, BDNF is involved in both preventing the death of existing brain cells and increasing the production of new ones (neurogenesis).
OK, who doesn't need more of this stuff?! 
How can you have fun and get some STEM CELL THERAPY next weekend?
Sign up for the Berkeley Heights 5K! 
The proceeds support many worthy causes and they offer both a run and a fitness walk – it doesn't matter which one you do, just make sure that you become out of breath doing it : )
In closing, it's not just the zucchini that did some MAD GROWING – Jesse doubled in size and weight since the Summer Solstice.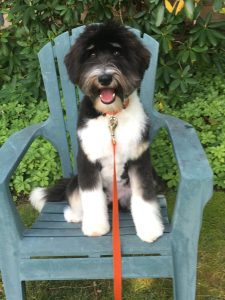 The bad news…she also gets into twice as many shenanigans!!
Happy September : )