Have you ever gone away and not had anyone to look after your garden?
If so, you may have experienced what my Mom refers to as "the baseball bat" zucchini.
Here's are a couple of gems that came from my garden after a recent trip… the little pink "dot" is a peach – yah, those are squash not watermelon!
So, what's a negligent gardener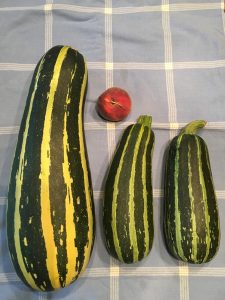 to do?  Make soup!
I love this cold soup in the summer – it's cooling to the body and wakes up a weary palate.
I used one of the two "smaller" zucchini to the right of the "thigh sized" giant to make this healthy soup.
If you don't have a garden or if you pick your zucchini at the appropriate time(go you!), make this delicious summer soup anyway – it's so worth it!
If you don't consume dairy, here is a link to my non dairy version: https://madnutrition.com/non-dairy-zucchini-soup/
Ingredients: 
5 – 6 small zucchini or  3 – 4 average sized zucchini or 1 "baseball bat" zucchini
Note: If you're using one very large zucchini, buy one really small zucchini from the market to use for the matchstick in Step 2.
1 large yellow or Vidalia onion, sliced
1 ½ tsp. curry powder
3 ½ cups of chicken stock (preferably homemade)
1 cup organic half and half
Fresh chives, chopped
sea salt and pepper to taste
Directions:
Rinse, dry and trim ends of zucchini.
Reserve one whole small zucchini or 1/2 of an average sized zucchini and cut it into matchstick.
Put reserve matchstick into small sauce pan with about an inch of water and bring to boil.  Boil for 2 minutes until matchstick is tender but still crunchy.
If using typical sized fruit(yes, squash is a fruit!), cut rest of zucchini into quarters,  else peel and seed your baseball bat zucchini.  The easiest way to do this is to cut it in half and then again in quarters.  Then use a sharp paring knife to remove seeds in one even slice across.  After removing seeds, cut into large chunks.
Put zucchini into pan and add onion.  Sprinkle vegetables with curry powder and mix to coat veggies.  Add chicken stock to pan and bring to boil.  Cover and simmer about 45 minutes until zucchini is soft.
If you have an immersion blender use it to blend zucchini mixture to smooth consistency.  Otherwise transfer the cooked mixture into a blender or Vitamix and blend until smooth.  Transfer blended mixture to a bowl and stir in half and half. Season to taste with salt and pepper.
Chill soup and garnish each bowl with matchstick zucchini and generous amount of chopped chives.
Serves 6 – 8