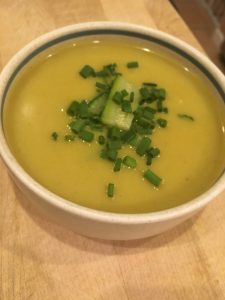 This is a non dairy version of my cold zuccini soup.  If you have zucchini from your garden that are too large to eat plain,  try making this delicious soup!  Even if you don't have an over-sized homegrown squash, this is a tasty seasonal soup that will leave you with a satisfied tummy.
This non dairy recipe substitutes a little bit of coconut cream and some almond milk for results that are as tasty as the cow version – hip, hip hooray!
Ingredients: 
5 – 6 small zucchini or  3 – 4 average sized zucchini or 1 "baseball bat" zucchini
Note: If you're using one very large zucchini, buy one really small zucchini from the market to use for the matchstick in Step 2.
1 large yellow or Vidalia onion, sliced
1 ½  or 2 tsp. curry powder (see Curry Note below)
¼ cup unsweetened coconut cream (the brand I love in photo below)
¾ cup unsweetened almond milk
3 ½ cups of chicken stock (preferably homemade)
Fresh chives, chopped
sea salt and pepper to taste
Curry Note: If you're  a big fan of curry go ahead and use 2 tsp. – I did for this version and it was scrumptious!  If  however, you're a little curry-shy than 1 ½ tsp. of curry powder is a better choice…note that the flavor of the curry comes out when the soup is cold so you can't go by taste when you're preparing…the chilled soup will have a much more prominent curry flavor.
Directions:
Rinse, dry and trim ends of zucchini.
Reserve one whole small zucchini or 1/2 of an average sized zucchini and cut it into matchstick.
Put reserve matchstick into small sauce pan with about an inch of water and bring to boil.  Boil for 2 minutes until matchstick is tender but still crunchy.
If using typical sized fruit(yes, squash is a fruit!), cut rest of zucchini into quarters,  else peel and seed your baseball bat zucchini.  The easiest way to do this is to cut it in half and then again in quarters.  Then use a sharp paring knife to remove seeds in one even slice across.  After removing seeds, cut into large chunks.
Put zucchini into pan and add onion.  Sprinkle vegetables with curry powder and mix to coat veggies.  Add chicken stock to pan and bring to boil.  Cover and simmer about 45 minutes until zucchini is soft.
If you have an immersion blender use it to blend zucchini mixture to smooth consistency.  Otherwise transfer the cooked mixture into a blender or Vitamix and blend until smooth.  Transfer blended mixture to a bowl and stir in coconut cream and almond milk. Season to taste with salt and pepper.
Chill soup and garnish each bowl with matchstick zucchini and generous amount of chopped chives.
Serves 6 – 8