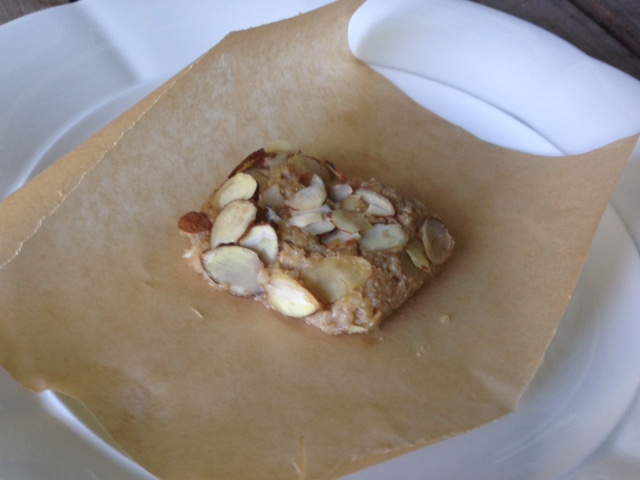 Ingredients:
½ cup of dry quinoa (or 1 ½ cups cooked quiona)
¼ cup of raw sliced almonds
1 apple, halved, peeled and cored.  Slice each half into 4 thick slices.
4 tbsp. almond butter
2 tbsp. honey
¼ tsp.  pure Vanilla extract
½ tsp. cinnamon
½ tsp. sea salt
Directions:
Rinse ½ cup dry quinoa thoroughly in fine mesh strainer (rinse until no foam appears).
Place 1 cup of water in a covered saucepan with ½ tsp. of sea salt and bring to boil.  Place quinoa in pan and bring water back to boil.  Reduce heat to simmer and place apples on top of quinoa, covering pan.
Cook quinoa and apple slices covered, on simmer, for 18 – 20 minutes until water is gone and quinoa grains are separate and fluffy.
Spread cooked quinoa and apple slices on a jelly roll pan to cool (about 15 minutes).
Put cooked apple slices (don't worry if some quinoa is sticking to them!) into a Vitamix or blender and add all remaining ingredients except raw sliced almonds.  Blend until mixture becomes a paste (add a little water if your almond butter is very dry).
Place cooled quinoa in a mixing bowl and add almond butter paste, mixing well.  Spread mixture into an 8 by 6 glass dish.  Sprinkle sliced almonds over the top of the mixture and cover with a piece of parchment paper, pressing the almonds down into the mixture through the parchment.
Refrigerate bars for at least 3 hours or overnight.  Take bars with you by individually wrapping in parchment or unbleached wax paper before overwrapping with plastic.
Alternatively, after placing quinoa and almond paste mixture into glass dish, roll each 3 by 2 inch bar into a ball with dampened (and freshly washed!) hands and roll in approx. ½ cup of raw sliced almonds.  This will give you a dryer outside consistency, making eating it on the go neater!
Makes 8, 3 by 2 inch bars or balls
Refrigerate leftover bars or balls for 4 – 5 days or freeze in single serving sizes