Got Leftover Hard Boiled Eggs?
Make egg salad!
Many of us have extra hard boiled eggs on hand this time of year – be they au naturel like mine (left over from our Passover Seder) or pastel Easter hues, it's a great excuse to make egg salad, one of my favorite comfort foods!  Skip the mayo and try this version…I used my avocado base dressing,  from my Green Chicken Salad recipe in my book.  Full disclosure: the dressing is a light green color but if you use about 1/4 cup of dressing per 3 large eggs, it doesn't look that green in the finished product.  It's not white but avoiding white foods is always a good plan!
Ingredi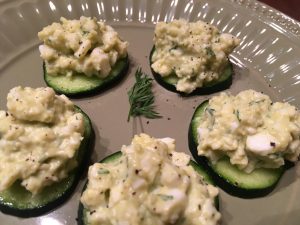 ents:
8 or 9 hard boiled eggs, peeled and rinsed for shell pieces
fresh dill – about 1 tbsp. chopped fresh dill – Optional but amazing!
For the Dressing:
1/2 Haas type avocado
1/2 cup water
1/2 tbsp. fresh lemon juice (good squeeze from 1/4 of a good size lemon or 1/2 smaller lemon)
1/2 tbsp. apple cider vinegar
1/2 tbsp. extra virgin olive oil
1/2 tbsp. raw honey
1/4 tsp. ground organic mustard seed
1/2 tsp. sea salt
generous sprinkling of freshly ground black pepper
Makes 3/4 cup dressing
Directions:
Combine all dressing ingredients in a Vitamix or blender and blend until well combined.
Place hard boiled eggs in mixing bowl and chop.  I find the easiest way to do this is with a hand held potato masher which makes the egg pieces nice and small with very little work.  Add dressing, mix and add chopped dill, if using.  Taste egg salad and add salt and pepper to taste.
About 6, 1/2 cup servings
The dressing will keep for 1 – 2 days in the fridge.  If making a small egg salad this dressing is delicious on fresh salad greens or poultry.  Store "other half" of avocado with pit in, tightly wrapped in plastic wrap in fridge…eat it the next day.