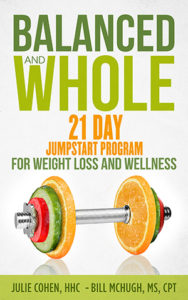 Have your muscles gone on vacation?  Has your weight been creeping up? Do you want to start eating "cleaner" and exercising regularly but you're not sure exactly what that means or how to begin?
The Balanced and Whole 21-Day Jumpstart program is here to help.  An easy to follow 3-week plan, the 21-Day Jumpstart Program builds your motivation along with your muscles.   It puts the right food and exercise all together for you in an easy to follow format so that you can begin to feel and look like your best version of you. Skip the latest fad diet and master the basics of eating whole foods and moving your body every day.   
A handy "How-To", it will guide you in making the best possible food choices whether you're eating outside your home or just don't feel like cooking.  Upgrade your diet from where ever you are now and proceed at your own pace.
The 21-Day Jumpstart offers you the tools you need to easily implement change and monitor your progress.  This step-by-step plan starts with basic exercise equipment you can use at home, showing you how to easily tailor your exercise schedule around your life and not the other way around, to achieve your health and fitness goals. 
Learn how to live Balanced and Whole and begin laying the foundation upon which to build your trimmer, healthier lifestyle.
Purchase on Amazon
Purchase on Barnes and Noble