Keep a Batch of Dressing handy to make Dressing Your Greens faster and easier!
Making a batch – or a few batches of delicious homemade dressing on Sunday is a great habit that speeds up meal prep all week long!   This week my clients received watercress because I found some gorgeous cress grown in Connecticut.    In 2014, when researchers from New Jersey's own William Patterson University devised a classification scheme to define and rank powerhouse fruits and vegetables watercress secured the number 1 position!  Watercress, a true superfood,  contained the highest amounts of the 17 critical nutrients researchers used to rank powerhouse foods by their nutrient densities.  Not surprisingly, leafy greens occupy the top 16 spots on the list!
So eat your leafy greens, especially watercress,  when you can find it fresh and healthy looking. I never buy watercress leaves that are sold in sealed plastic bags!  Instead look for fresh bunches with the root balls attached.
By mixing a variety of greens together (think romaine, chicory, endive, baby spinach, dandelion greens…) you can add a lot of taste variety without adding cucumbers, tomatoes, or other traditional salad accoutrements.  How do you dress your greens simply?
Try this delicious light lemony dressing recipe!  It has a refreshing taste with just a touch of sweetness from a tiny bit of raw honey and a touch of mustard because the honey and mustard compliment bitter spring greens so well.
A few weeks ago,  while walking around the Chelsea Market in New York,  I came across a very cool product that I'm really enjoying – the Mason Tap!  Now you can shake, serve and store your favorite dressing in your favorite mason jar (I have purple ones!) topped with a pour spout that makes dressing your salad poetry in motion…check out the video because seeing is believing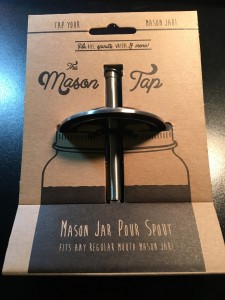 If you want one of these mason taps for your very own you can purchase them here:
To see the whole powerhouse fruits and vegetables list click here:
Light Lemony Dressing for Greens
Ingredients:
2 tbsp. freshly squeezed lemon juice (juice from ½ of a large lemon)
4 tbsp. good quality extra virgin olive oil (I'm partial to the Spanish Olive Oils!)
½ tsp. Dijon mustard
½ tsp. raw honey
¼ tsp. sea salt
Directions:
Add all ingredients to a glass jar or shaker bottle and shake vigorously to mix. (Dipping your honey spoon in oil first will allow the honey to come off spoon cleanly).
Makes about ½ cup of dressing which is plenty to dress 4 generous size salads
Watercress Storage Tip:
Watercress will stay fresh a couple of days stored in the fridge in a plastic bag with a paper towel in it to absorb the extra moisture.  Another great way to store it is with the root ball and stems standing up in water (trim off any low leaves that are in the water and change the water every day or two when it starts to look yellow).  Storing your cress in water keeps it fresh up to 4 or 5 days. You can eat the leaves and the tender portions of the stems after thoroughly rinsing them – discard the tough bottom inch or two of the stems.