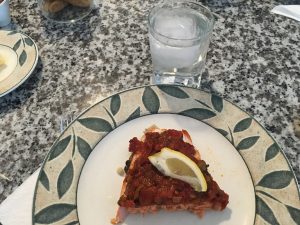 Veracruz Sauce for dudes.  In honor of Father's Day, this month's blog is dedicated to dude food.  To get just the right recipe I consulted my friend,  Ralph Vetsch.  Ralph is a great friend, but even better, a frequent "house guest" but better still, Ralph is a dude who cooks!  A house guest who makes you a tasty meal every time they visit is a treasure.   Like most dudes, Ralph prefers to make food that is simple (not too many ingredients) yet has a lot of flavor.
On his last visit he made us sweet potato gnocchi (that was just a side dish because he found some cooked sweet potatoes in my fridge!)  I snapped this photo of Ralph right after he drained the gnocchi – I'll pry that recipe out of him for a future blog : )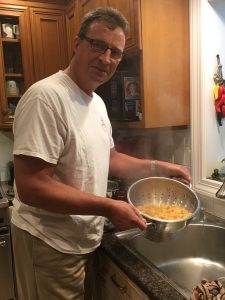 To the Veracruz!  For a little background, Ralph's primer on Veracruz:
"The Mexican coastal town of Veracruz is known for their fresh fish and a special sauce from the area.  This simple sauce will kick up the flavor of Salmon or other thick white fish like cod.  While I have not tried it, I can imagine it being great for chicken as well.  You can make this sauce in advance and freeze for later use.  While eating this dish, you might even be able to picture yourself at a seaside table.
I find that this sauce is best when prepared and then spooned on top of the fish prior to baking in the oven or on the grill."
Ingredients:
1, 14 oz. can organic fire roasted diced tomatoes
¼ cup extra virgin olive oil
1 tbsp. dried oregano
1 heaping tbsp. capers (non-pareil)
6 green olives with pimento, chopped
¼ – ½ cup water (keep on side to use as needed while sauce cooks)
¼ cup shallots, chopped (can substitute red onion)
3 cloves garlic, minced
1 bay leaf
Instructions:
Sauté chopped shallot and garlic in olive oil on low heat in 3 quart saucepan. (Dudes, Don't smoke your olive oil!!)
Add remaining ingredients and simmer.  Add water as needed as sauce simmers to thin sauce – I used ¼ cup.
Simmer sauce, uncovered, for about a half hour.
Let sauce come to room temperature  before spooning onto fish.
Cook's Notes:
This recipe makes enough sauce for 2 ½ lbs. of salmon (or other fish) which is 6 generous servings.
Sauce can be made earlier in day and spooned over fish right before cooking.
In oven, bake salmon or cod for about 25 minutes at 400 ° F. Or grill on medium heat for about same time – fish is done when it flakes easily.  Never under cook cod!
Yum, yum.