Source: http://www.nosalty.hu/recept/tradicionalis-gulyasleves
Many thanks to Greg Borsa for this recipe and for his guidance.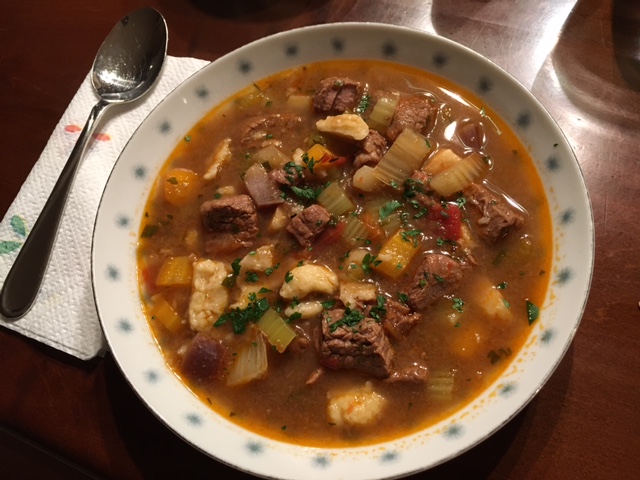 Cook's Notes:
When we visited Budapest the goulash was like a very hearty soup (a lot of broth) as opposed to the Czech Republic where it was the consistency of stew.
I used organic, grass fed flank steak because the meat in the goulash I ate overseas was not the very soft texture of stew meat – flank steak my best guess.
I made my own clarified butter (butter with the milk solids removed) – add 10 minutes prep time if you're doing this! If you don't want to clarify your own butter, you can buy Ghee, which is clarified butter; buy Ghee that is organic and doesn't contain any added spices.  Lard, traditionally pork fat, is what the recipe specified although beef tallow would also work.   For those who keep kosher or just prefer a vegetable based shortening be sure to choose one that doesn't contain any partially hydrogenated oils.
Full disclosure…there is a reason that only the grandmas make traditional goulash – they are the only ones who have time! It takes 3+ hours cooking time. It's fun for a weekend day when you can relax and enjoy both the cooking and the heavenly aromas.  Making a big enough quantity to have leftovers is wise as it tastes even better the next day!  I may try to adapt it for the crock pot in the future.  This goulash has a wonderful depth of flavor and luckily I brought back both hot and sweet paprika from Budapest.  This goulash tastes like the real deal…sadly, Greg is too far away to do a taste test!
 Soup: A leveshez                                                                                                                               
Ingredients:
2 lbs. of flank steak (traditionally a fatty cut of meat, traditionally leg (shank))
3 tbsp. clarified butter (traditionally 2 tbsp. lard)
Fresh Produce:
1 ½ cups yellow onion (about 11 oz.)
2 big carrots, scrubbed and chopped or peeled and chopped
1 big parsnip, peeled and chopped
1 small piece of celery root, peeled and big knots removed, diced
1 ¼ cups (14 oz) potato, cubed
1 bell pepper, seeded & stemmed but LEFT WHOLE
5 celery stalks, washed and cut
1 small tomato, diced
Parsley to taste (½ bunch but bunches are small in Hungary), chopped
3 – 4 cloves of garlic, finely diced
Spices:
1 tbsp. sweet paprika powder
½ tbsp. hot paprika powder
1 tsp. ground cumin seeds
2 bay leaves
1 tbsp. salt
1 tsp. freshly ground black pepper – or less pepper to taste – I used much less but did not measure!
Noodles: A csipetkéhez
1 egg
⅓ cup all-purpose flour
1 tsp salt
Directions:
Dice the onions very small – can chop in mini chopper.
Rinse the meat, dry thoroughly and dice to ½ x ½ inch pieces.
In a 8 quart stockpot heat the clarified butter, lard, or vegetable shortening and add the onions. Sauté onions on low heat until soft and translucent – about 7 – 9 minutes.   Remove pot from heat and let cool for 1 – 2 minutes.  Then add both paprika powders and stir well before returning pot to heat.  DO NOT ADD PAPRIKA TO THE HOT POT BECAUSE THE PAPRIKA WILL BURN AND IMPART A BITTER TASTE (Greg says this is a common mistake with goulash).  Add 1 cup water to pot with onions and paprika and bring to boil.  Simmer until water is almost all evaporated.  This step took about 7 – 10 minutes.
Add the meat to pot and stir until meat is evenly browned (white in color).   Add ½ tbsp. salt, pepper to taste, cumin seeds, and diced garlic to the meat and stir.  Then add diced tomato, bay leaves, and uncut bell pepper (with seeds and stem removed).
Cover and let simmer (very low heat) for 90 minutes. While the meat is cooking, prepare csipetké (noodles). When 90 minutes is up, carefully remove the uncut bell pepper and discard.
Add chopped parsnip and carrot, diced celery root, chopped potato, chopped celery and ½ of the chopped parsley (I added about 3 tbsp.), and the other ½ tbsp. of salt (if you are using broth instead of water – taste first (after adding the broth) before adding salt!). Add 2 Liters of water* (can also use vegetable broth – should comfortably cover in liquid) *I added 6 cups of water.  If you're using vegetable broth you can probably add 2 liters but if you are using water I recommend adding a little less so the broth is richer.  There is still ample broth as long as you simmer it gently.
Bring to boil and simmer gently for 50 minutes. Then add csipetke (noodles) and cook for 10 more minutes. Remove bay leaves.  Sprinkle remaining chopped parsley on individual bowls for serving.  Serve with sour cream, if desired.
To make noodles (csipetké):
Mix flour, salt, and egg, possibly a little water water to make doughie.  Boil salty water in separate pot.  Either grate the dough or take little pieces out with a teaspoon and throw into boiling water.  When they come to the top remove them from pot with a strainer.
I added ½ tbsp. of seltzer to the dough instead of water and refrigerated dough for 15 minutes (I took a page from my matzo ball playbook).  The noodles floated to the top very quickly and fused into giant noodles…be sure to use a wide stock pot (I only used a 3 quart and it was too small!) and the seltzer is probably a bad idea although they tasted delicious…I just cut the "fused noodles" into smaller pieces!
Makes about 8 generous Servings