Pea Shoots…yum, yum!
Spring Greens are in full swing – indulge in seasonal eating  and take advantage of the delicious fresh produce that doesn't require cooking!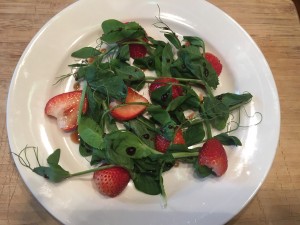 Pea shoots are the leaves and tendrils from pea plants – most often from snow peas but they can be from any type of pea vine.  Peas are a spring crop, but the pea shoots, though less widely available in supermarkets,  are also delicious, nutritious and oh so easy to eat!  They are high in Vitamin C, Vitamin A and folate and taste just like fresh peas.  (If your "Pea Paradigm" is based on canned or frozen peas from your childhood, please eat some fresh peas and reacquaint your taste buds with this delicious pulse!)  This week you can likely find them at farmer's markets – I bought mine at the Denville Farmer's market from Chickadee Creek Farm.
This Mother's Day make Mom a gourmet salad that takes almost zero time to prepare once you secure some delicious pea shoots and ripe organic strawberries.  To use pea shoots in a cooked dish, add them in for the last minute or two of cooking time to wilt them as you would with baby spinach or arugula for an easy green addition.
Pea Shoots and Strawberry Salad Recipe – Serves One
Ingredients:
Pea shoots, about a cup loosely packed and thoroughly washed
3 or 4 ripe Strawberries, washed and sliced in thirds
Balsamic reduction (see note)
Directions:
Arrange pea shoots and strawberries on flat dish and lightly dress by drizzling a few drops of balsamic reduction over each salad.
Note:
Making a balsamic reduction isn't hard but it's a little time consuming and it's an extra step.   Taking advantage of good quality condiments is a helpful cooking shortcut.  Most store-bought Balsamic Reductions do contain added sugar but you only need to use a tiny amount to get a big flavor punch.  You can make a homemade balsamic reduction without any added sugar and they are indeed delicious and worth the effort.  Some people use less sugar or use a little honey instead – I prefer not to heat my honey, but it's a matter of personal preference.  At the end of the day, high quality store bought condiments are handy when time is short.
If you would like to make your own, here are easy instructions:
Here is the Balsamic Glaze I used – it contains only balsamic vinegar and pure cane sugar.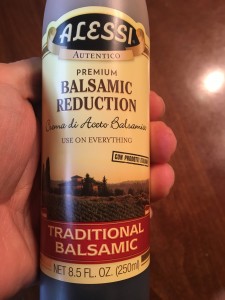 Finally, here is Jesse trying to eat a pea shoot (emphasis on trying)…apparently, it's an acquired taste!