5 Ingredient Zucchini Boats Recipe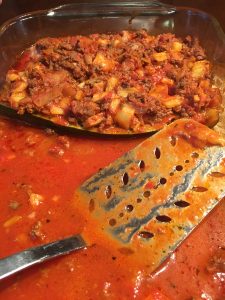 5 Ingredient Zucchini Boats Recipe
Zucchini Boats are a simple, quick dinner – perfect when the days are longer and our interests turn to the outdoors!  Who wants to cook long, complicated recipes?
Not me!!  Especially when it stays light this long and I have time to go outside before and AFTER dinner!
"Zoodles" or noodles made using a spiralizer tool to create zucchini "noodles" that can substitute for pasta are all the rage right now! But the humble zucchini is capable of so much more!  Zucchini, when hollowed out makes a great vessel – a.k.a the "Zucchini Boat".  This simple 5 ingredient dish uses ground buffalo, which is lean and yummy when combined with flavorful onion in a red sauce.  You can substitute grass fed ground beef which is just as delicious.  I took a shortcut by using Penzey's Pasta Sprinkle spice mix which contains basil, oregano, garlic & thyme.  Use one or more of those spices to get the same flavor if you don't have Pasta Sprinkle in your spice rack  Be generous with the  salt since zucchini and buffalo are both a bit bland!  The only other ingredient that comes in handy is some raw milk Parmesan cheese for serving.
Dock a zucchini boat in your oven while you take a walk outside!
Ingredients:
zucchini, about 5 smaller* ones for 12 oz. (3/4 lb.) of buffalo or ground beef as written, hollowed out and removed contents roughly chopped
1 medium yellow onion, chopped
12 oz.  ground buffalo (or substitute ground beef)
1 24 oz. jar of tomato sauce (marinara works well)  Reserve about 1/4 – 1/2 cup of sauce for the bottom of your baking pan.
1 tsp. Penzey's pasta sprinkle
sea salt to taste
raw milk Parmesan cheese for serving
Directions: 
Pre-heat your oven to 375 ° F.
Wash and dry zucchini.  Remove stems and cut in half  long ways.  Using pairing knife, hollow out flesh of zucchini leaving just enough flesh inside to support the hollowed out frame.
Roughly chop zucchini flesh (including seeds if using smaller size zucchini) and onion.
Brown ground buffalo on low to medium heat in a large skillet until no longer pink.  Remove meat from pan and reserve.  Buffalo is very lean so there is no need to drain fat.  If substituting ground beef, drain pan of most fat, reserving a few tablespoons to brown onion and zucchini.  If using buffalo, add a little oil to pan and add the zucchini and onion, sprinkling with spice mix.  Sauté the veggies for about 5 minutes.  Add most of the tomato sauce and all of the browned meat back into skillet and add salt to taste. Heat for a few minutes to blend flavors.
Add the reserved tomato sauce to the bottom of a baking pan and nestle the hollowed out zucchini boats into the pan.  I used a 13 by 9 inch pyrex which snugly held all 10 boats.
Generously fill each boat with some of the meat and vegetable mixture.  The boats are small and you can pile them pretty high to use up all the filling.
Cover the dish with foil and bake in 375 °F. oven for about 30 – 45 minutes until the boats are just soft enough to pierce with fork but not too soft!
Serve zucchini boats with freshly ground black pepper and raw milk Parmesan.
*Note: I prefer to use smaller zucchini when I make boats because the seeds are tender, the boats bake faster and dinner gets on the table quicker.  Smaller zucchini also taste better so this is a win/win!