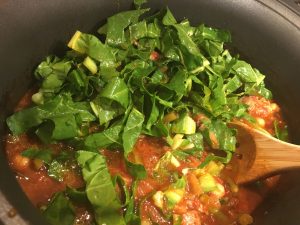 Crock Pot Moroccan Lamb Stew Recipe – yum, yum!
When we had that first really cold day a few weeks ago I called my crock pot to see if it was busy…turns out I haven't seen it much since I made chili on Halloween! The crock pot is a great tool for creating warming winter dinners that feel easier, even if they're not!  Since you eat crock pot meals so long after you labored over the prep you still feel pampered when you open the door to the smell of dinner cooking!  Sometimes it is quicker and easier to just "throw things into the crock pot" than to prepare a meal on the stove but this Crock Pot Moroccan Lamb Stew recipe is not in that category!
First, it calls for removing the lamb meat from the shoulder blade chop before cooking and that,  my friends, is time consuming! When I saw grass fed blade chops in Whole Foods I was inspired to make this meal…inspired by the very low price for high quality grass fed lamb.  I had to put a lot of sweat equity into it however, so I'm not sure it was a good trade.  You can cook blade chops whole but for this recipe I wanted the flavor that comes from searing the cubed meat first.  I was also inspired by a big, beautiful bunch of green Swiss chard but this stew would also be delicious with pre-washed baby spinach that literally wilts as you're folding it in at the table!
For speed, I gave myself a C for this recipe but for taste it gets a solid A!   We all get into food ruts and it's great to break up the boredom with a new flavor combination.  I favor the North African and Mediterranean flavors and the combination of garlic, ginger, cumin, cinnamon and cayenne is as wonderful for our immune systems as it is for our palates!  If you haven't seen your crock pot in a while see if you can make up with it and prepare to enjoy!
For a quicker prep just use boneless lamb leg meat that you can ask the butcher to cube up for you and substitute pre-washed baby spinach for the chard.  And if you don't have homemade beef marrow stock in your freezer we'll have to address that in an upcoming newsletter…in the mean time, just use store bought beef broth.  Whatever you do, don't skip the fresh cilantro or parsley for sprinkling on just before you eat it – the fresh herbs make this Crock Pot Moroccan lamb stew recipe perfect!
Ingredients:
3 ½ pounds of grass fed lamb "blade" chops or shoulder chops (can substitute cubed leg meat if you can't find the blade chops)
1 onion, chopped
4 – 5 cloves garlic, minced
1 inch piece ginger peeled and grated on micro plane – about 1 heaping tsp. ginger
¼ cup organic black raisins
1 15 oz. can of chickpeas, rinsed and drained
1 28 oz. can organic fire roasted diced tomatoes, with their juice
12 oz. organic green beans, rinsed and cut into 1 inch pieces (about 3 cups)
1 bunch organic Swiss chard, rinsed and coarsely chopped
1¾ tsp. ground cumin
1 tsp. cinnamon (half Cassia and half Ceylon cinnamon*, if you have on hand)
¼ tsp. cayenne pepper
2 bay leaves
Salt and freshly ground pepper to taste
3 ½ cups of beef marrow bone stock (homemade) or other beef broth
Fresh cilantro or parsley, chopped for serving
Plain full fat organic yogurt (optional for serving)
* Note: I like the depth of flavor achieved by using both types of cinnamon – the Cassia, which tastes sweeter to my palate and the more subtle Ceylon.  For more information on the  differences between the Cassia and Ceylon cinnamon's (besides the taste differences) click here:
Directions:
Cut the meat from the blade chops into cubes/chunks as best you can, removing thick pieces of fat.  In a large skillet, brown the lamb cubes on all sides and add them to the crock pot insert.It will probably be necessary to brown them in 2 batches.
Discard most of the fat from the skillet but leave enough to brown the onion.  Add onion to skillet and sprinkle with sea salt.  Scrape up the brown bits with the onion and add garlic and ginger to pan for about 30 seconds to 1 minute – just until you smell the garlic.  Add onion, garlic and ginger to crock pot insert.  Stir in tomatoes, broth, chick peas and green beans and add cumin, cinnamon, cayenne pepper, and bay leaves to crock pot insert and turn it on.
Cook in Crock Pot on low for 6 – 8 hours or on high for 4 hours.
Add Swiss chard about 15 minutes before you are serving your stew – fold it into hot stew and replace crock pot cover. If using baby spinach instead of chard – fold it into stew right before serving just to wilt it.  Taste stew for seasoning and add salt and freshly ground pepper to taste.
Serve stew in a bowl with a dollop of plain yogurt (if desired) and some chopped cilantro or parsley for sprinkling on top.
Makes 6 – 8 Servings